We are a bilingual comedy collective that loves celebrating our Latino lifestyle.
Started by two Chingonas locas in San Antonio, Texas in 2017, the show has evolved into an entertaining variety of live comedy acts, sketch comedy, and some good ole chisme! Through real life convos and creative skits, our goal is to empower our gente by telling entertaining stories we can all relate to. Whether you need a good belly laugh or a trip down memory lane, this next generation of comics are sure to make you spill your Michelada!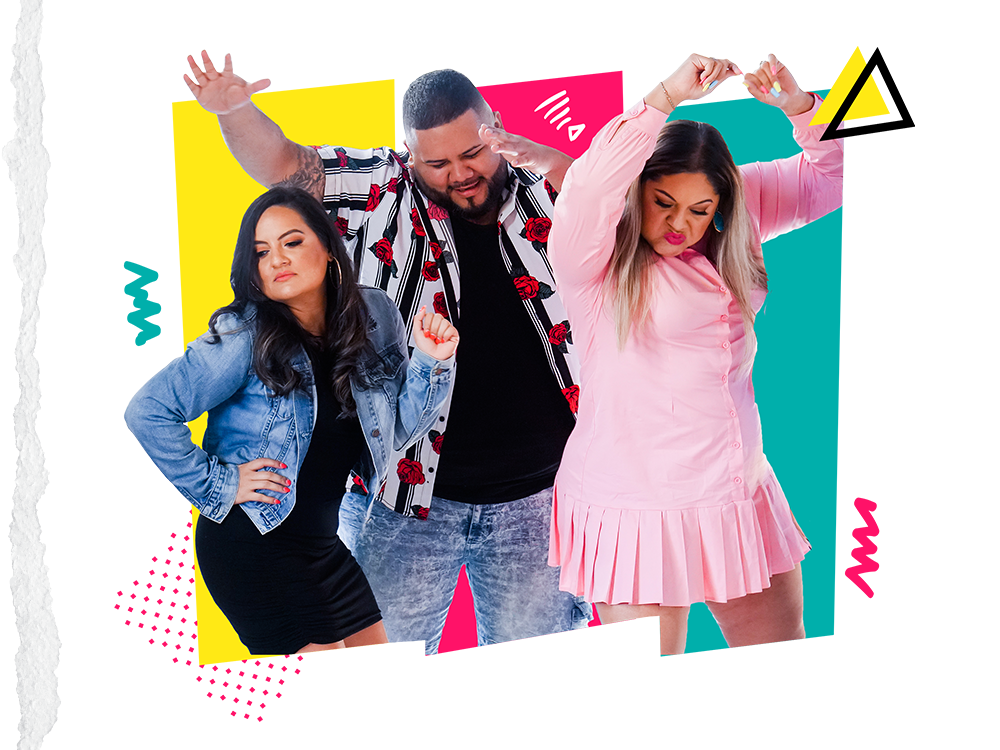 Shop for your favorite Hoodrat Things!
Buy a piece of merch or two and help the Ratas keep bringing the laughs and pendejadas! FREE SHIPPING ON SELECT ITEMS!
Samantha Najera | Lil' Chismosa
Life Goal: To be Mexican Oprah so I can give away cars and pay for funerals.
Favorite Quote: "There's two things in life we pray to…Jesus and Selenas"
Favorite Hoodrat Snack: Hot Cheetos and The Piccadilly from Big Daddy's.
Samantha Najera, better known as Lil' Chismosa is a show creator and co-host for Bean & Chisme.  Samantha has over 15 years of experience in radio, TV, film, marketing and communications industry, earning her Chingona badge long ago. While working hard on her degree from the University of the Incarnate Word (that's right, she is an educated Latina), she was an intern for Turner Studios in Atlanta, GA., serving as a production assistant on various sets including TBS's "Movie and a Makeover," "Dinner & A Movie," and Cartoon Network's "Cartoon Fridays." Lil' Chismosa also worked as a production assistant for San Antonio's ABC Affiliate KSAT 12 News and became a news reporter herself for ABC 40 News in College Station. In November 2012, Samantha launched her own Creative Marketing & Public Relations firm in San Antonio, HeartFire Media LLC. and has continued to provide creative services to businesses all around Texas. When she's not making people laugh or creating video content, she's a Chingona Mom to her 5 year-old daughter Ava Grace and dog Franky aka el diablo pequeno.
Joanna Estrada AKA Chona-E.
Life goal: To be the next Fallas Paredes.
Favorite Quote: "Alaaaaaaaaaa!"
Favorite Hoodrat Snack: Popcorn with pickle juice and chamoy for the chorro vatoooo!
Joanna Estrada is an actress/comedian from San Antonio Texas. She studied acting (stage and film) at The American Music and Dramatic Academy in NY and Los Angeles. Joanna has been practicing her craft for 21 years.   She is best known for her music video parodies, however she also started doing standup and is killing it! She's a mom and wife, often using her husband in her comedic content. You can see Joanna performing at live shows, meet and greets, across Texas.
Alex "AJ" Rivas
Life goal: To be the Mero Mero Frijolero!
Favorite Quote: "Anything for Selenasss"
Favorite Hoodrat Snack: Hot Cheetos con sal y limon with a coca Mexicana on the side.
Alex is a Tik Tok star from San Antonio, Texas. Known for his creative Tik-Toks that often tell the story of "Growing up Mexican" and Tex-Mex life. He has a character "Yessica" that does lot's of Selena lip syncs, parodies, and remakes of scenes from the Selena movie. He also dabbles in standup and hosts events as well. AJ has fans across the U.S. and you can find AJ on Tik Tok often coming up with creative stories that showcase the "Hoodrat" life and many more relatable characters.
Stay Up To Date On The Chisme!
Sign Up For Our Mailing List